Classes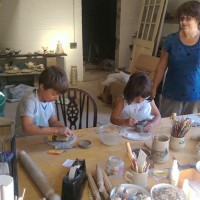 Classes have finished for 2022, and will restart in the spring.

I offer classes in my studio near Argentat-sur-Dordogne, covering all aspects of pottery.
Generally I take small groups of up to 5 people at a time, which allows me to give sufficient time to each participant, whilst keeping things friendly and relaxed.
I have regular weekly classes that last either 1 or 2 hours, from April to October, for all levels - from beginners of all ages, to more experienced people wanting to get their hands on. I can also organize classes for a weekend - or longer - on demand.
You are welcome to visit my studio - please call ahead to make sure I'm there.

Featured products